Thursday, January 11, 2018

Longest glass bridge: world record set in China (VIDEO)

BEIJING, China -- The 488-metre-long bridge at Hongyagu Scenic Area in Hebei, which opened on December 24, designed to hold 3,000 people on the transparent glass walkway, sets the new world record for the Longest Glass Bridge, according to the World Record Academy .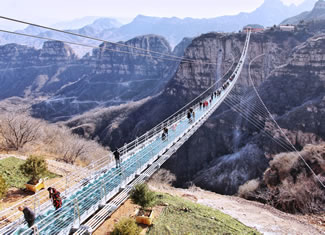 Photo: A bridge 430 meters long and 6 meters wide opened last year in the Grand Canyon Scenic Area in Zhangjiajie, Hunan province. It stands at 218 meters above the valley between two steep cliffs in Hongyagu Scenic Area in Pingshan county. ( enlarge photo )

The bridge is 1,600 feet long and only 6.5 feet wide. It hangs between two cliffs more than 700 feet above the valley floor in the Hongyagu Scenic Area in Pingshan county.

Although the bridge is capable of holding up to 3,000 people at a time, security precautions limit that number to 600 people at a time.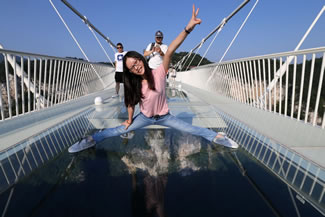 According to the China Daily, the bridge took 18 months to build and can withstand the "strongest winds" or a magnitude six earthquake. The bridge is composed of 1,077 panes of glass that are 4 centimeters — or about an inch and a half — thick.
( enlarge photo )

The previous record was held by a glass bridge in Tianmenshan National Forest Park in Zhangjiajie that stretched 1,410 feet.

Related world records:
Longest pedestrian suspension bridge: world record set in the Swiss Alps (VIDEO)

Longest railway tunnel: Switzerland breaks Guinness World Records record (VIDEO)

Longest train journey: Yixinou breaks Guinness World Records' record (VIDEO)