Monday, August 9, 2010

Largest Sweet Tea - world record set by Chick-fil-A

TULSA, Okla., USA -- Tulsa-area Chick-fil-A® restaurants created a nine-foot tall cup holding more than 1,140 gallons of freshly brewed sweet tea and ice - setting the new world record for the Largest Sweet Tea .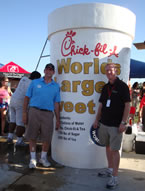 ( enlarge photo )

The new world record for the Largest Sweet Tea was set during an all-day celebration at Nienhuis Park in Broken Arrow, Okla.

Operators and team members from five Chick-fil-A restaurants worked with volunteers from schools, churches and community groups throughout the Tulsa area to create the World's Largest Sweet Tea

The process required 72 pounds of tea leaves, 1,150 pounds of sugar, one ton of ice and 912 gallons of water.

"In the midst of the heat wave we've been experiencing in Oklahoma, there was no shortage of people looking for a nice cold glass of sweet tea and we were glad to oblige," said Greeno.

"We couldn't have made it happen without the help of our staff and neighbors throughout Tulsa gathering supplies, brewing the tea and coming out to cheer us on."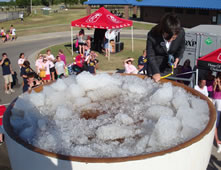 Photo: Official Guinness World Records® adjudicator Kimberly Partrick presided over the event and officially called the record. [excuse that long hair hanging over the limonade...]
( enlarge photo )

The achievement marks the second Guinness World Record for Tulsa Chick-fil-A Operator Arthur Greeno, who set the record for world's largest soft drink when he created an 834-gallon cup of freshly-squeezed Chick-fil-A lemonade in 2008.

The Chick-fil-A Kid's Meal program is partnering with Guinness World Records to challenge children across the country to set their own records this summer.

Atlanta-based Chick-fil-A, Inc. is the nation's second-largest quick-service chicken restaurant chain (based on sales), currently with 1,500 restaurants in 38 states and Washington D.C.

Credited with inventing the boneless breast of chicken sandwich and first introducing the chicken nugget concept, Chick-fil-A serves nutritious and freshly prepared food products in mall locations, stand-alone restaurants, drive-thru-only restaurants, Chick-fil-A Dwarf House® and Truett's Grill® full-service restaurants, and through licensed outlets in college campuses, hospitals, airports, businesses and industrial sites.

Subscribe to our FREE RSS News feed to receive updates. Related world records :
Largest smoothie - Dairy Farmers of Canada

Largest Moka Pot - Mirco della Vecchia

Largest bottle of grappa - Distilleria Bottega

Most Exclusive Mint Julep Cup - Woodford Reserve

Largest Cup of Hot Chocolate - New York

Biggest drink of orange juice - Palagiano

Largest cup of tea - Mercy Health System

Biggest tea cosy - BUPA care homes

Largest cappuccino - Prague

Largest Lemonade-Tulsa Chick-fil-A Restaurant

Largest cup of coffee - Vinacafé Bien Hoa

Largest tea party - Indore

Monday, August 9, 2010