Friday, October 6, 2017

Largest bounce house: world record set by The Big Bounce America (VIDEO)

Bakersfield, CA, USA -- Spanning 500,000 square feet with brightly colored, inflatable architecture, The Big Bounce Americasets the new world record for the Largest bounce house, according to the World Record Academy .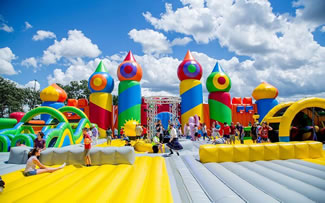 Photo: The world's biggest bounce house features basketball hoops, an inflatable obstacle course, a ball pit, a DJ and more. The biggest bounce house in the world, a gigantic 10,000-sq ft leviathan, is travelling across the USA, hosting events open to the public at a range of different locations. Photo Courtesy of Big Bounce America ( enlarge photo )

The Big Bounce America is for all ages. Its sessions are divided by age groups, and parents can go in with their kids too. There's even an adult session.

The bounce house isn't just for jumping up and down in a confined space, like you would in a typical bounce house. There's an inflatable basketball game, giant beach balls, inflatable characters like a sun or a monkey that act as punching bags, employees spraying water and a DJ.

The Big Bounce America plans to expand its bounce house to even bigger dimensions and add more to its arsenal as it expands to more tour locations across the U.S.


The World's Biggest Bounce House from The Big Bounce America on Vimeo .
Related world records:
Largest mobile skating rink: Moscow sets world record (VIDEO)
Longest stone road bridge: world record set in in Turkey (VIDEO)
Largest hedge maze: world record set in China (VIDEO)
Largest Crystalline Lagoon: Crystal Lagoons breaks Guinness World Records record (VIDEO)
Largest movable metal structure: Chernobyl dome sets world record (VIDEO)
Largest indoor theme park: Dubai breaks Guinness World Records record (VIDEO)